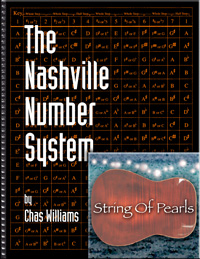 WHAT PEOPLE ARE SAYING
"Chas Williams' book is as valid in Boston as in Nashville. Berklee is using the book to prepare students for the recording industry."
--Robert Stanton, Assistant Professor--Berklee College of Music
"The Nashville Number System, by Chas Williams, is a book I really needed back in 1983 when I moved to Nashville for a recording career. I had to learn it bit by bit, trying to keep up. It can save you a lot of time and embarrassing moments."
--Mark O'Connor
"After looking through The Nashville Number System, it would be in my opinion, the most informative book for learning this system and being able to apply your own way of using this method."
--Eddie Bayers
"This book seems to be the definitive answer to those desiring to understand the Nashville Number System. In addition to a brief history of the system, the book details several versions exemplifying the variety of styles used. I highly recommend it for anyone involved or seeking to become involved in the Nashville music community."
--Brent Rowan
The Nashville Number System is used as a textbook at Berklee College of Music in Boston, Belmont University in Nashville, MTSU in Middle Tennessee and other schools that are preparing students for a music career in Nashville.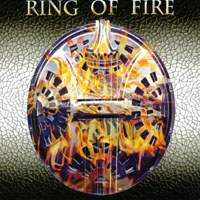 REVIEWS
Ring of Fire Review by Les Reynolds of indie-music.com:
Noted Nashville guitarist Chas Williams has released a masterpiece of instrumental guitar that is finely crafted and diverse enough to hold your interest through the whole CD. "Ring of Fire" is 10 instrumental works of art covering jazz, folk, rock, bluegrass, country and blues. Eight are originals while the title track is the famous Johnny Cash tune and "Gold Rush" is from the late Father of Bluegrass, Bill Monroe. Chas' treatment of each is excellent.
Chas plays all slide and dobro guitars with expertise and precision. And he shows his versatility in covering so many styles. This guitarist has toured with Maura O'Connell, Wynonna Judd and Nancy Griffith and is a sought-after studio musician. These tunes are evidence of just why that is.
Speaking of instruments, Chas is joined by an all-star ensemble of rhythm and keyboard players, but it's the guitars that really stand out. The bluegrass/country "Canterbury" starts things off with medium-tempo drumming and Chas leading the way with his dobro. He is so skillful that these tunes need ONLY the instrument(s) -- voices would actually subtract from this. And it's been said that slide guitar is about as close to human voice as a musical instrument can get. Chas proves that time and again throughout this CD. "Ring of Fire" is a full-out rousing rendition of a country/rock classic from one of music's legends. Chas keeps the true spirit of the song alive and kicking with skillful effects, pounding rhythm and smooth "dirty" electric slide guitar. These same elements are featured throughout the CD.
There are some jazz elements (among others), but the very best are the tunes centered around the dobro and electric slide. Which leads to the final tune "IMHO" (does that mean 'in my humble opinion'?). Anyway, this starts out with a wailing, gradual slide and rich electricity flowing all the way through. It's a gentle roar of a tune that reminds you of a dirt bike weaving and revving through dirt mounds, staying low and occasionally grabbing some serious air.