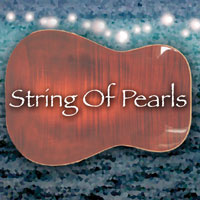 String of Pearls is Chas Williams' latest release. It is a high quality mp3 download.
Interactive charts from String Of Pearls are accessible with a book purchase.
BUY IT NOW!
TRACK LIST
Uncle John's Cabin
White Hardware
Perfume & Bubblegum
Claire and Calvin
Boogie Shuffle
Winter Break
Pelican Shuffle
Amazing Grace
STRING OF PEARLS
String Of Pearls is a high quality mp3 download. The download is free and all chart examples in the book reference these songs. An actual audio disc is available if you prefer; cost is only the price of mailing the CD (email for details).  You can watch animated number charts as you listen to the songs. There is a click track with each song and a highlight moving from chord to chord in time with the music. You can see exactly how to count each measure in real time with the music. Counting bars is probably the hardest part of the number system to teach. With this download, you will be able to see, hear and feel how these charts work.
I wrote all of the songs to demonstrate different feels, how to understand counting bars and feel phrases. For example, Winter Break is an 8ths Country Rock, Waylon is 6/8 with a Halftime feel and Pelican Shuffle is a 2 beat shuffle that goes into a Ray Price style shuffle during the choruses.
Each of the 10 songs has 5 charts handwritten by some of Nashville's best known musicians: Charlie McCoy, David Briggs, Lura Foster, Jimmy Capps, Brent Rowan, John Hobbs, Biff Watson, Tony Harrell, Chris Farren, Mike Chapman and Eddie Bayers. For example, the song String Of Pearls has charts written by: Charlie McCoy, Brent Rowan, John Hobbs, Jimmy Capps and Biff Watson. The song, Waylon has charts written by: Jimmy Capps, Biff Watson,Tony Harrell, Lura Foster, and Eddie Bayers.
As you listen to the cd, you'll be able to compare some of the different styles of notation and symbols these musicians use to chart the same piece of music. The different charts show the kinds of numbering techniques that you are liable to run into in almost all of the major recording and television studios, clubs, showcases, rehearsal halls, and other situations where music is performed in Nashville.
So, whether you are a songwriter trying to get your material performed, a band leader teaching songs from a record, a producer teaching an arrangement or a musician learning an arrangement in the studio, the Nashville Number System is a great way of presenting your songs and musical ideas.