THE NASHVILLE NUMBER SYSTEM iPad App
Writing NNS Charts On Your iPad
Music notation is made simple with this shorthand system which puts chords into numbers 1 through 7 and sreamlines the page into a simple and clean format. Forget about pencil, erasers and photocopy! This app combines technology with tried and tested methods; allowing user to create song charts with the ease and speed of pen and paper.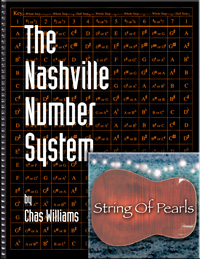 The Nashville Number System (7th Edition) comes with a copy of Chas Williams' latest cd, "String of Pearls". BUY IT NOW!
Also Available as a downloadable version for computer or iPad!

---
The Nashville Number System Gigbook.
Available as a download for computer or iPad!

THE NASHVILLE NUMBER SYSTEM
In the late 50's, Neil Matthews devised a musical number system for the Jordanaires to use in the studio. Charlie McCoy and fellow studio musicians began adapting Matthews' number system into chord charts. The Nashville Number System has evolved into a complete method of writing chord charts and melodies---combining Nashville shorthand with formal notation standards.
The Nashville Number System is 130 pages with a step by step method of how to write a Nashville number chart for any song. Included with each NNS book in Edition 7 is the cd, "String Of Pearls". This is a 10 song cd of instrumentals, including, Amazing Grace. I walk you through the details of each song and explain the Number System tools used to write the charts. Now, while listening to the cd, you can see and hear how Nashville number charts work. Learn More >
7th EDTION NOW AVAILABLE AT A GREAT PRICE!
The 7th Edition of the "Nashville Number System" by Chas Williams is now available! More great charts, an Interactive CD, updated content! Learn More >
CUSTOM CHARTS!
Custom charts of your song written by Chas. If you're not sure how to write a number chart for your song, or if you have questions about the Number System for more information.
REQUIRED TEXT
The Nashville Number System is a required test at Belmont University, Vanderbilt's Blair School of Music, MTSU, Capital University and Liberty University. It is also used as a text at Berklee College of Music and Mediatech Institute in Austin.