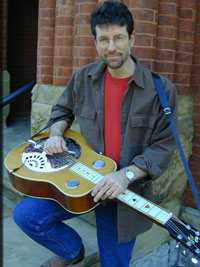 CHAS WILLIAMS
I play guitar, slide guitars and dobro. After a couple of semesters at Berklee College of Music, in 1979, I moved to Nashville. I learned the Nashville Number System while working in Steve Bivin's writer's nights bands and doing demo sessions. At a writer's night, the band backed up 20 to 30 songwriters. We would play their original songs with no rehearsal, just number charts. We wrote most of the charts ourselves and received great ear training taking dictation from thousands of song demos.
Some other good times I've had in this business were a year and a half playing dobro and guitar with Maura O'Connell.
I then played guitar and slide guitar on the road for 3 years with Wynonna Judd. This was her first band in 1991 after The Judds broke up.
I then toured for 1 1/2 years as guitarist with David Gates of Bread.
In June of '99, I became a member of Nanci Griffith's Blue Moon Orchestra and played with them for 3 1/2 years. I played on Nanci's 2001 record, "Clock Without Hands" and 2002 live CD and DVD,"Winter Marquee".
I co-produced and played dobro and guitar on the CD, "Sisters Wade" and played dobro on their record,"Walls Of Time."
I won the '09 Canadian Aboriginal Music Award for engineering and mixing Arvel Bird's album, "Tribal Suite".
I played Dobro and Slide Guitar on the 2011 album by Stealing Angels. I also tour in the band with them.
If you're not sure how to write a number chart for your song, I can write a chart for you. If you have questions about this service please email me for details