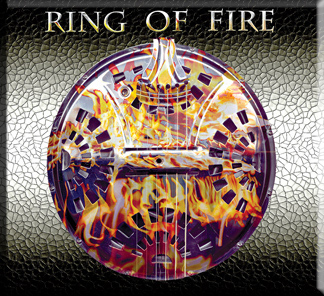 Ring Of Fire comes with charts of all the songs on the CD. Click a link below for a sample, or BUY IT NOW!
TRACK LIST
Snow Day
C III
The New 1
Giant's Causeway
Gold Rush
First Steps
Spanish Medallion
IMHO
Back Cover: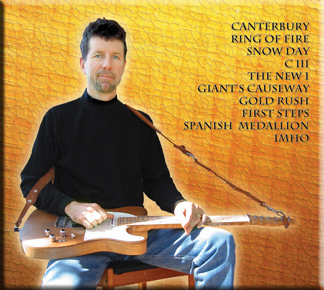 GEAR USED ON THE CD:
For anyone interested in some of the sounds on this record, here is a list of the equipment used:
Dobro: ' 81 ShoBro.
Electric guitars: James Tyler strat, '64 Fender Stratocaster and Jerry Jones baritone guitar.
Slide guitars: Custom made Tele Slide Guitars by Lynn Ellsworth. One of these guitars has a Fishman Power Bridge and the other has a 2-Tek bridge.
Acoustics: '90 Martin HD-28, '43 Martin ooo-18.
Amps: Speedster Deluxe loaded with a THD Hot Plate, through a Boogie 20/20 power amp then into a Pacific 1x12" cabinet.; Thd Univalve into THD 2x12" cabinet; '60 Fender Concert.
Stomp boxes: including a Hot Cake, Robert Keely TS-9 w/808 mod, Marshall Bluesbreaker, Boss Auto Wah, Hughes and Kettner
Rotosphere, Boss Reverb/Delay pedal, Danelectro Cool Cat chorus, Visual Volume volume pedal and Boss CS-3 compressor. Recording: Fostex VF-16 and Pro Tools Digi 001.
Microphones: Rode NTK tube mike, AT 4033 or a Neuman KM-84. Electric guitars were all recorded loudly into an SM57, sometimes with the 4033 condenser about 4 feet away to add some room and depth.
Ring of Fire
Ring Of Fire is a CD of dobro and slide guitar instrumentals. I wrote all the songs, except Johnny Cash's Ring Of Fire and Bill Monroe's song, Gold Rush. The styles vary from bluegrass to rock. Musicians who helped me on this record include:
Drummers: Pasi Leppikangas (John Cowan & Michelle Wright), Brian Barnett (Don Williams), Bob Warren (The Lynns) and Pat McInerny (Nanci Griffith).
Upright Bass: David Spicher (Jerry Douglas Band & Pam Tillis).
Electric Bass: Ron DeLa Vega (Nanci Griffith), Dow Tomlin (Jessica Andrews Band) and Dave Francis (Pam Tillis & Maura O'Connell).
B3 Organ:Reese Wynans (Stevie Ray Vaughn)
Keyboards: Jon Glazer (Wynonna and The Judds).
Fiddle and Mandolin: Jason Roller (Joe Diffie, John Berry and Tracy Lawrence).
I played all acoustic and electric guitars, dobro and slide guitars.
I have written number charts for all the songs on the record. As you will hear, there are very simple songs as well as complex arrangements to follow. I hope you like the music, but It's also fun and challenging to follow along on the charts.
---
Below are charts of two of the songs on the CD. Click on a link from the Track List to listen to the song while you read along with the Chart!